News Archive
Find older news and articles about Edward Murphy and from earlier this school year and from previous years.
Le Mie Ricette
June 18, 2014
A taste of Italian from our students is included in our PELO family recipes collection. Please enjoy.

Una guida culturale alla cucina italiana e locale.
Uploaded: 2014-06-18
Supply Lists and School Fees
June 30, 2014
All parent correspondence posted online will also be archived in the parents section.

2014-2015 School Year
Uploaded: 2014-06-30
Nez Pour Vivre Campaign
May 27, 2014
Once again, a big thank you to the Edward Murphy Community for your generosity. The "Nez pour vivre" campaign is directed to helping young adults aged 18 to 30 years young who are struggling with cancer. The nez pour vivre campaign was designed to remind everyone that life continues once the diagnosis occurs. It wants to remind everyone that life can be joyful no matter what happens. To keep us looking for the silver lining.
Every child in the school was asked to make a least one purchase of a red nose in support of this cause. The proceeds go entirely to helping cancer patients continue to live productive lives. On May 4th a large event took place where anyone who bought a nose was invited to be part of a picture event in hopes of being part of the Guinness world record book. We also had our event and hope to continue to participate in events that teach our kids about giving and perseverance of the human spirit. For more info about this charity, please go to nezpourvivre.com.
Thank you to everyone who donated!
Heart of the City Piano Program
March 18, 2014
Edward Murphy School is privileged to be involved with the Heart of the City Piano Program.
Students interested in the program are selected by school staff based on need and enthusiasm. From September to April, children receive weekly 30-minute private lessons with volunteer teachers.
Students in the program are equipped with keyboards, headphones and music books. In early December and early April, participating students are encouraged to prepare one or two short pieces for the winter festival and the year-end recital respectively, where they show their family and friends what they learned during the year.
In March, students are invited to attend the HCPP Montreal Talent Show featuring volunteer musicians. Last year, talented musicians and volunteers performed Mozart piano sonata, jazz saxophone, traditional Irish jigs, a string quartet rendition of "Call Me Maybe" and many other beautiful pieces.
Lecture: Importance of Sleep for Youth with ADHD
April 14, 2014
Presented by Dr. Reut Gruber, a clinical child psychologist at the Douglas Hospital, this lecture will present the topic of sleep in relation to attention and behavior in children with ADHD.
The lecture will be held on Tuesday April 29 at 7:30 p.m. at the Montreal Children's Hospital.

April 29, 2014
Uploaded: 2014-04-14
EMS receives a BIG thank you from the Longue Pointe military base
March 10, 2014
Prior to winter break, our student choir preformed holiday classics at the Longe Pointe military base holiday luncheon. Our students were treated to the meal as well. This is a long standing tradition and the Master Warrant Officer and Major that came to EMS were very proud of our students and stated that it is the only school choir that has performed for members of the Canadian forces during the holidays.
Our angelic voices made the day memorable and touching. They open their museum to our students every year to share in the history that has made our country great.
Extraordinary Storytellers
February 28, 2014
EMS held it's storytelling competition on Thursday, February 27th. It was an opportunity to celebrate our students' abilities in transmitting a variety of emotions through the telling of a tale. We were very proud of our cycle 3 students.
Congratulations to Jade and Jayson for their first place finish. Jade will be representing us in French and Jayson in English at the EMSB Storytelling Fair on March 17th.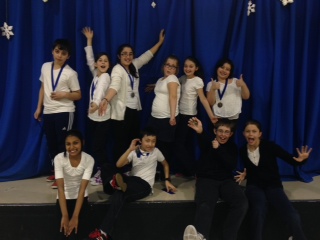 EMS Storytelling Competition Participants
Enjoying Winter Moments
February 28, 2014
Mother nature smiled on our February 10th outing. Sunny sky and the mild winter temperatures made it a fantastic day to be out. Snow tubes, sledding, sculpting, labyrinths, climbing and many more activities made it a fun filled day.
Transitioning Towards Independence Resource Fair
February 28, 2014
Bringing together a collection of resources for parents, family members, teachers and caregivers of students of all ages with learning difficulties and/or special needs. Free lectures and over 30 exhibitors.

March 13, 2014
Uploaded: 2014-02-28
Bill 60 is an attack on the diversity of our schools - A message from the Central Parents' Committee
January 27, 2014
Today, the EMSB Central Parents' Committee released a statement to the media regarding Bill 60, the inappropriately named Charter of Quebec Values, denouncing it as an attack on youth education and a threat to the diversity of the public school system.
In addition to our media statement, we would like your help to distribute the attached message to all parents in your school as quickly as possible. We would ask and strongly recommend that you please use whatever means you feel best, whether it is distribution on paper, by email or by posting on your school website, to get the word out effectively. We are grateful for whatever you can do to help distribute this message to EMSB parents .
This issue is one that touches us all, and it is important that we are united in our opposition. Your assistance is greatly appreciated.
Pietro Mercuri
Chairperson
Central Parents' Committee

Message from the CPC
Uploaded: 2014-01-27

The Quebec Charter of Values
Uploaded: 2014-01-10
Speaking and Writing
January 13, 2014
Every 6 weeks, students in each of our classes are selected to present in front of their peers and parents, an original piece of writing. It is an occasion that allows our diverse students to shine and showcase their writing talent and develop their oratory skills. It is an activity that develops confidence in our students and we are very proud of their work.
EMS Recieves Gift for Classroom Learning
December, 2013
For the second year in a row, FedNav is contributing to improve the quality of educational resources our students receive.  Last year, they donated 11 laptops and 4 ipads to the school and this year they are contributing $6000.00 to purchase resource materials (dictionaries, thesauruses, besherelles, etc...) and high-interest reading books for each classroom.  Also, thank you to our community for participating in the chocolate drive that raised $5529.01.  This fundraisers has added 6 computers to our computer lab.
A big thank you from the Edward Murphy staff and students for these wonderful gifts.

Breakfast with Santa
December, 2013
It's breakfast with Santa on the last day of school, Friday December 20th! Breakfast starts at 8:30 a.m. sharp! Don't forget to wear your pyjamas and don't be late!
Symphonic Winds visit Edward Murphy School
December, 2013
The Rosemont High School Orchestra, Symphonic Winds, delight the Edward Murphy audience with holiday favorites.
Remembrance Day at EMS
November 11, 2013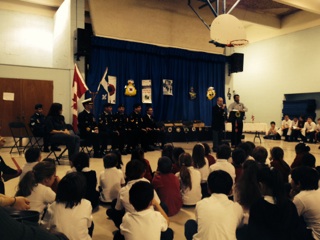 Commemorating Remembrance Day at Edward Murphy is a long standing tradition.
We were honoured to receive guests from the various military corps who spoke to our students about peace and the significance of this day.
Pedagogical Days and Daycare
November 1, 2013
All children have access to daycare on Ped days.  Please advise the daycare at least 10 days prior to the Ped day, as usually trips are booked for these days. 
The cost of a Ped day is $7.00 plus the cost of the field trip that has been planned.  If you require daycare services on November 15th or 29th please call Ms. Joanne at 514-259-0050 to reserve a spot. 
Note: Daycare will be closed November 22nd.
EMS In the News
2012-2013
2011-2012