Edward Murphy School encourages the development of intellectual, social, moral, cultural and physical growth of our students in order for our students to be literate, life-long learners.
Edward Murphy provides two different levels of French programs for our students.
Edward Murphy School is privileged to be involved with the Heart of the City Piano Program. Students receive weekly 30-minute private lessons with McGill volunteer teachers during lunch hour or after school. Learn more at heartofthecity.ca.
Our Chocolate fundraiser has enabled the Edward Murphy School to complete its portable computer lab. Congratulations to everyone for a job well done!
Important Dates
J
a
n

22 House Assembly
28 Speaking & Writing
29 Ped. Day (daycare open)





F
e
b

15 Ped. Day (daycare open)
17 End of Term 2
19 **Moveable Ped. Day (daycare is open)
22 Read to Me, Read to You
25 P/T Interviews (evening)
26 School Ped. Day (daycare is open)



M
a
r

1-5 Spring Break
8 First day back from Spring Break
10 Read to Me, Read to You
18 House Assembly
19 EMSB Ped. Day (daycare is open)
26 Speaking & Writing



A
p
r

TBD Music Concert
2 NO SCHOOL - Holiday
5 NO SCHOOL - Holiday
20 Speaking & Writing





M
a
y

21 **Moveable Ped. Day (daycare is open)
24 NO SCHOOL- Holiday
TBD Defi Pierre Lavoie
TBD Halo Race




J
u
n

21 Fun Day
TBD Kinderfest
TBD Grade 6 Graduation
23 Last day for all students/End of Term 3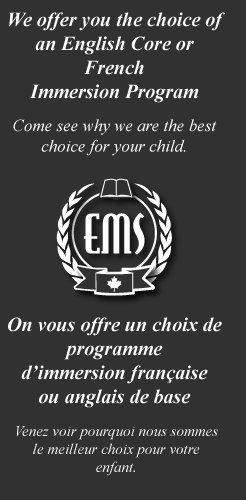 Latest Tweet